VietTimes – Translation Covid-19 not only affects the supply of raw materials, but also the progress of building EU-GMP pharmaceutical factories of domestic enterprises.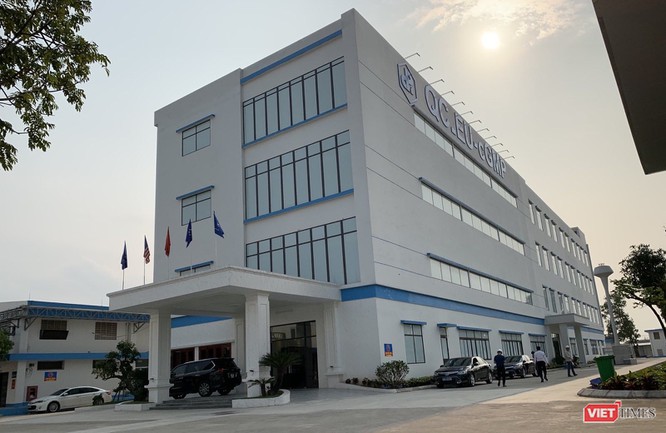 As a pure Vietnamese enterprise, Pharbaco will become the most formidable player in the Vietnamese pharmaceutical market after the newly built super factory is recognized with EU – GMP standards.
According to SSI Securities JSC (SSI), the demand for raw materials for pharmaceutical production in Vietnam depends on 80 – 90% on imported sources. This is always a long-term problem for Vietnam. Because, to produce medicinal herbs requires a lot of investment and need to be capable of technology (Vietnam does not have a competitive advantage compared to other countries, such as China and India).
In the context of complicated epidemic Covid-19, pharmaceutical enterprises will suffer many negative impacts on the supply of raw materials. The impact more or less will depend on the raw material storage policy of each business.
But the Covid-19 epidemic is making a significant impact on the progress of the domestic pharmaceutical enterprises to develop EU-GMP standard pharmaceutical factories. This is due to the fact that the movement of experts and partners across countries has been constrained by the disease, hindered development, and validated standards.
According to SSI statistics, as of November 30, 2019, the number of production lines or factories meeting EU – GPM / Japan – GMP or PIC / s production quality standards reached 19 out of 203 factories. pharmaceutical products belonging to more than 170 domestic pharmaceutical manufacturing companies and multinational companies.
SSI's assessment of high quality products will be a competitive advantage for domestic pharmaceutical companies.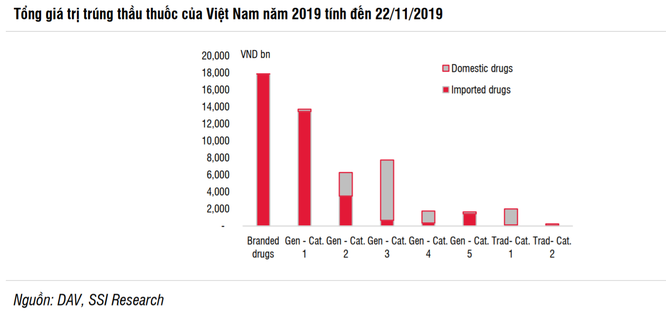 Group 1 and 2 drugs are still the private "playground" of foreign companies
Specifically, the Circular clearly states that in Groups 5 and 2, imported drugs may not be allowed to bid if domestically produced drugs meet WHO-GMP and EU-GMP standards respectively for the same activity. key substances (API), and if the production capacity of the company can fully meet the demand.Date 1 October 2019, Circular 15/2019 / TT-BYT of the Ministry of Health regulates the bidding Officially effective public health establishments. This is the revised circular of Circular 11/2016 / TT-BYT previously issued by the Ministry of Health.
In addition, public hospitals and clinics in Vietnam will not bid for imported drugs that are covered by the state budget or health insurance fund. Medical facilities will not be invited to bid for imported drugs if there are at least 3 domestic pharmaceutical companies that are able to supply these drugs for treatment and meet the standards of price and availability.
SSI assesses that public bidding regulations for drugs are an advantage for drug manufacturers in Vietnam that meet high production quality standards. At the same time, this policy also aims to encourage foreign drug processing, as well as technology transfer of foreign medicines, for production in Vietnam.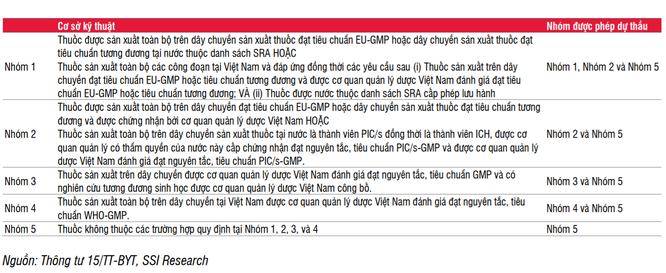 5 groups of generics in drug bidding at public health facilities
Among listed companies, Imexpharm Pharmaceutical JSC (Ticker: IMP) and Pymepharco JSC (Ticker: PME) are those companies that have achieved EU – GMP certification for 2 production lines, while Hau Pharmaceutical JSC. Giang (Ticker: DHG) is certified for both PIC / s and Japan-GMP standards.
In addition, as VietTimes mentioned, Central Pharmaceutical Joint Stock Company I (Pharbaco – Ticker: PBC) is also building a project of a pharmaceutical factory with EU – GMP standard.
Pharbaco is one of the few domestic companies implementing the project of a pharmaceutical factory meeting EU – GMP standards by itself without the participation of foreign shareholders like many other companies.
Currently, Pharbaco has implemented phase 1 of the project with a total investment of 1,200 billion VND. Due to the impact of the Covid-19 epidemic, it is almost impossible for experts to come to Vietnam to coordinate machinery operation, however, Pharbaco still aims to complete and verify the EU – GMP factory in Q3 / 2020.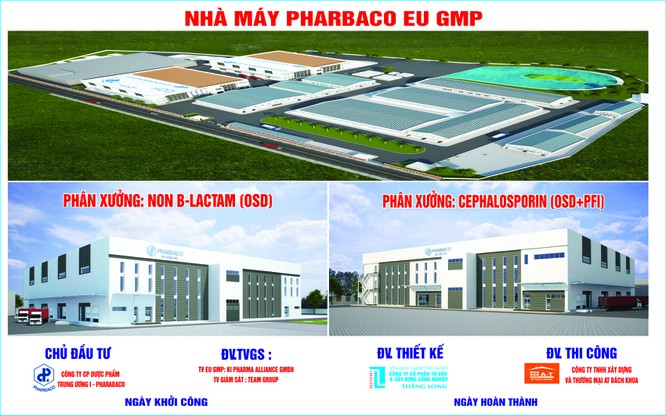 Overview of Pharbaco EU – GM Factory Project (Source: AT Bach Khoa)
Regarding the second phase of the project, Pharbaco is quickly planning to deploy, the total investment is expected to be about 800 billion VND. Funding for implementation is expected to be mobilized from strategic shareholders and bank loans.
Owning an EU-GMP factory will help Pharbaco's pharmaceuticals qualify for bidding in groups 1 and 2 on the ETC channel (hospitals, clinics) and closer to the goal of becoming 1 in 10 enterprises. pharmaceutical products with the largest production in Vietnam.
According to a report by Mirae Asset, this unit estimated that the total value of Vietnam's pharmaceutical industry in 2019 reached about 6.95 billion USD, up 11% compared to 2018. In which, imported drugs still dominate the pharmaceutical market. Therefore, the possession of an EU-GMP factory helps to redistribute the market share of the pharmaceutical industry in Vietnam.
By 2020, the Ministry of Health aims to increase domestic drug consumption to 22% in central hospitals, and to 50% and 75% in hospitals.